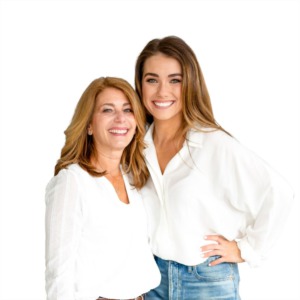 Combining the sales expertise of a 22-year industry veteran with the marketing mastery of a savvy millennial, the Guarino Group offers a truly unmatched client experience. 
With natural negotiation skills and extensive market knowledge, this mother-daughter team is dedicated to always acting in their client's best interest. Their fierce devotion to integrity and constant willingness to go the extra mile are some of the many reasons they are so widely referred from Boston through the North Shore. 
With a unique ability to make everyone around her feel important, Susan has confidently guided hundreds of clients through real estate transactions over the past two decades. Originally from Woburn, she and her husband Paul moved to Wakefield 27 years ago where they raised both of their daughters. As a lifelong North Shore resident, Susan provides a distinctive insight into the communities her clients care about. She is an active member of the community and enjoys playing tennis in her spare time. 
After graduating summa Cum Laude from The University of South Carolina, Alex worked as a news anchor and reporter in North Carolina before seamlessly transitioning into real estate. Similar to working in journalism, real estate requires an inquisitive mind, a passion for storytelling, and exquisite attention to detail. Alex currently lives in North Reading with her rescue dog, Bennie. When she's not working, you'll likely find her eagerly planning her next trip.
Both Susan and Alex have a passion for service and giving back to their community. The duo loves gardening, spending time on the beach with a good book, and venturing into Boston's North End for a family meal on Sunday afternoons.
Testimonials
Her integrity, forthrightness, communication skills, and work ethic were obvious from our first meeting. After interviewing other realtors, Susan Guarino was the obvious selection for me.
She was always available via text message or email, even on weekends, late hours, and holidays. Always the consummate professional, and quick to offer assistance above and beyond the mechanics of the sale. She has a wealth of professional contacts that make the seller's life easier and greatly facilitate the process.
I have bought and sold houses in four different states. My experience with Susan Guarino was by far the best. She has earned my respect, my endorsement, and my friendship.
Alan Therrien
We had a great experience with Susan as our realtor when buying our first home. We had a list of wants and needs, including staying close to family, and she found and showed us houses every weekend that were a great fit. She was a great guide when needing to be aggressive in today's market, while also making sure we weren't over-exerting ourselves financially. We could genuinely tell she had our best interests in mind. We are now very happy and settled in our new home. We would recommend Susan to anyone looking to buy a home in the area.
Michelle & Zach Kondroski
Susan went above and beyond to assist with the process of selling our house in a short period of time. She guided us through the process with ease and was quick to respond to any questions or concerns we had. For the open house, she provided thoughtful details and helped us make our home look amazing. Would absolutely recommend utilizing Susan for your buying/selling needs.
Ariana & Cody Croft

Over Five Star ServiceSusan performed a market analysis of our property, recommended we make some repairs but cautioned against major changes. Susan had high-quality photos made of the house and marketed the property with open houses. The open houses welcomed a high number of potential buyers to view the house. Susan represented our interests and guided us through a review of our multiple offers, in the end, we received far more for the house than we expected. Susan is highly ethical and just the kind of person you want to have represent you in the sale of your property.
GB
Susan is extremely knowledgeable patient calm and at the same time gets the job done no matter what. In my case, there were several glitches that could have had my sale fall through but with all of Susan's knowledge experience, and thoughtfulness, she got the job done !!!
Bob Hadley
More Testimonials