Renée has been working in the mortgage industry for 20+ years. Whether you are buying or selling, Renée's mortgage background and positive outlook on life is sure to make your transaction a smooth and easy one! Clients love Renee's positive energy, smile, and sense of humor. Renee truly makes the home buying and selling process certainly less stressful and a lot more fun!
Testimonials
Renee was such a great help to my search. She was patient and always, always stayed positive which is much needed into today's rough market! Although I'm sure she was working with other clients, the level of attention I received was as if I was her only client. As a first time home buyer I was especially self conscious about my lack of knowledge around the process. No question was too small for Renee and the team of people she recommended through the process were all equally knowledgeable and friendly.
Michelle Camisa. Salem, left feedback 0 months ago
Renée was amazing. She worked so hard for us to get our dream home. She was quick to set up appts during open houses. An unforeseen emergency prevented us from being able to do final walkthrough & do some final things prior to closing but Renée took care of it for us & communicated with us every single step of the way. Forever grateful. She made this experience very positive.
Radairy V-West Peabody, left feedback 0 months ago
What made Renee Merchant stand out was the fact that she was 100% committed to doing whatever she could to help us in every aspect of the sale - From marketing the property to arranging the showings and open houses, to obtaining and selecting the best offer, to closing it out, Renee was driving the process on our behalf. Renee was on top of literally every detail of the process, she over-communicated, she helped us in strategizing and answering questions about how to best maximize the 9 offers that she was able to obtain in a week's time from listing resulting in a sale that wound up tens of thousands of dollars above asking price, with no contingencies or risk. There are many nuances that we weren't aware of that Renee helped us to understand and act upon in selling the house. What more could we possibly ask for? Renee coordinated all of the closing resources seamlessly and went out of her way to make the entire experience as easy as possible for us. We couldn't possibly be happier with the experience and we highly recommend Renee Merchant to any potential seller. THANK YOU so much, Renee Merchant! Sincerely, Brian and Dee Smith
Brian and Dee Smith, Harrison, Maine, left feedback 3 months ago
More Testimonials
Contingent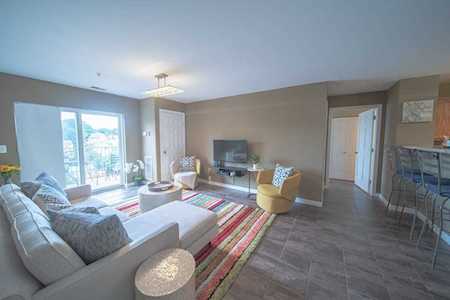 84 Aborn St #2308
Peabody, MA 01960